Nursing Applications Now Being Accepted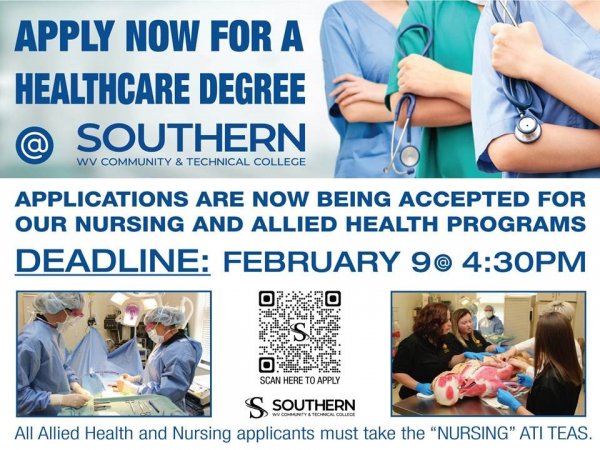 NURSING & ALLIED HEALTH APPLICATIONS ARE NOW BEING ACCEPTED!
Southern WV Community & Technical College is now accepting applications for its Nursing and Allied Health programs.
The deadline is February 9th, 2023 (at 4:30 pm). Applicants need to attach all required documents to the application, including the TEAS.
Qualifications to apply are on the applications. All Allied Health and Nursing applicants must take the "NURSING" ATI TEAS.
www.atitesting.com – click "student," then click "TEAS," then scroll to the bottom of the page and click "START REGISTRATION."
You will register to take the TEAS at ATI online exam using ATI remote proctors.
Here is the link to the Nursing program (the application link is near the bottom of the page): https://www.southernwv.edu/programs/degrees/#nursing