1st Annual Poker Run Benefiting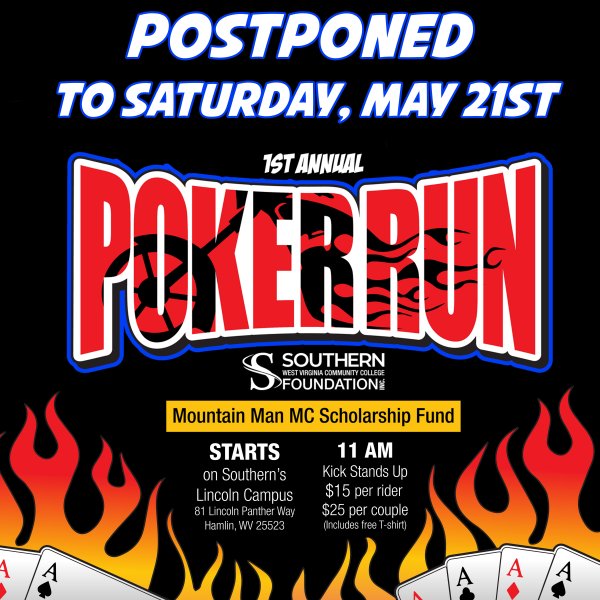 Southern WV Community College Foundation and Mountain Men, M.C. are currently planning our first Poker Run Fundraising event to benefit the Mountain Man, M.C. Scholarship.  The event will be Saturday, May 7, 2022, registration at 10 am and kickstands up at 11 am at Southern's Lincoln campus. The event will travel to all five of Southern's campuses, beginning at our Lincoln campus and ending at our Logan campus.  The game will be 5 Card Stud, picking up one card at each campus.  The highest hand and lowest hand will receive a cash prize.   Refreshments will be provided at each campus stop, sausage biscuits before the ride, and hotdogs at the Wyoming campus.  Following the ride, the Mountain Men, M.C. invite all participants to join them at their Chapmanville clubhouse for food and entertainment. 100% of all proceeds from the ride and post-gathering benefit the Mountain Men, M.C. Scholarship to students of Southern West Virginia Community & Technical College.
We are seeking sponsorship at the following levels:
Ride Sponsor – $1,000 – given top placement on all advertisements, banners, & social media posts. Can place an ad to be added to each bag given to each participant. 4 paid registrations to ride
Tee Shirt Sponsor – $500 (four available) – Name and logo on all shirts to be given to each participant
Refreshment Sponsor – $250 – Banner advertisement at all five refreshment stops.
Saddlebag Sponsor – $1,000 – any saddlebag sponsor can place an ad in each bag,
In-Kind Donations are accepted for prizes, giveaways, and drawings.
ALL SPONSORS receive – Mention on all social media, advertisements, and press releases
Southern WV Community College Foundation, Inc. is a registered 501 (c) 3 not-for-profit organization with the Internal Revenue Service (IRS).  Donations for this event may be tax-deductible.  Southern's Foundation always accepts and appreciates all donations.  Make checks payable to Southern WV Community College Foundation.
For more information, please feel free to contact Crystal D. Cook at (304) 896-7103 or crystal.cook@southernwv.edu.  Thank you for your time and commitment to making this a great event.  We welcome all riders to join us in this inaugural ride to raise money for the Mountain Man, M.C. scholarship.