A Very Southern Christmas Concert 2023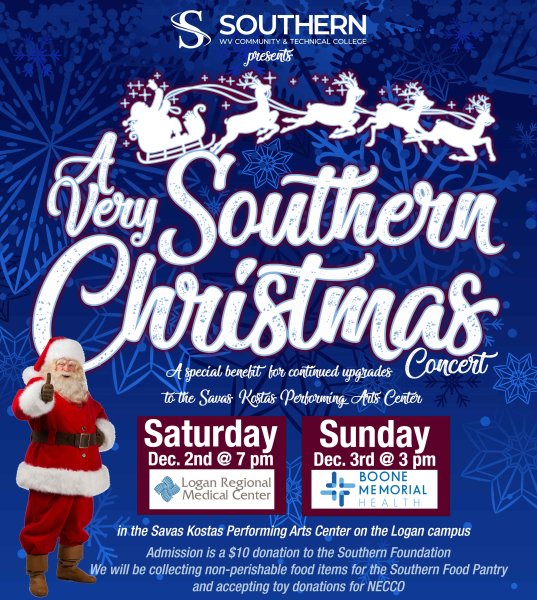 Kick off the Christmas Season with us!
Southern WV Community & Technical College will sponsor the 2nd annual "A Very Southern Christmas" concert.
The event will be held over two days, on Saturday, Dec. 2nd at 7 p.m. and Sunday, Dec. 3rd at 3 p.m. Logan Regional Medical Center and Boone Memorial Health are sponsoring the concerts.
The performances will be in the newly upgraded Savas Kostas Performing Arts Center. Thanks to the support of our community, we have updated our sound, lighting, and curtains in that facility.
Santa Claus and Bestfoot, our mascot, will be on hand to take photos with the kids.
The concerts are fundraisers for continued upgrades to the Savas Kostas Performing Arts Center. A who's who list of local entertainers will perform.
Admission is only a $10 donation. Southern will collect non-perishable food items for our food pantry, and NECCO will collect new and gently used toys.