Community College Goes 'Cuckoo' to Upgrade Theater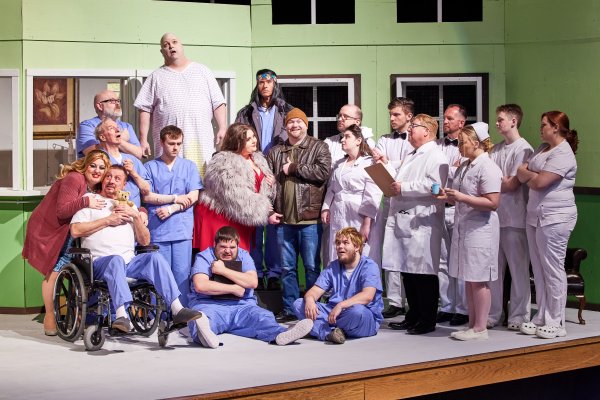 Southern WV Community & Technical College is bringing Theatre back to campus to help upgrade its Savas Kostas Performing Arts Center on the Logan campus.
"One Flew Over the Cuckoo's Nest" will be presented this Thursday, March 24th at 7 pm, this Friday, March 25th at 7 pm, this Saturday, March 26th at 7 pm, and a special matinee performance this Sunday, March 27th at 3 pm.
All proceeds will benefit the Southern Foundation, which is currently raising money to upgrade the college's 35-year-old theatre.
The play marks a return to college-produced theatrical productions. This will be the first show produced by Southern in 15 years. It's also the first time this award-winning play has been presented in the local area.
This stage adaptation of Ken Kesey's celebrated novel explores the brutality of life in a mental institution with humor, candor, and unforgettable characters.
After being convicted of a petty crime, a charming, rebellious rogue named McMurphy contrives to serve his short sentence in an airy mental institution rather than in a prison.
This, he soon learns, was a mistake. He immediately clashes with the authoritarian head nurse, a fierce martinet named Nurse Ratched.
Despite Ratched's strict reign, McMurphy quickly takes over the yard, leading others out of introversion, staging a revolt so that they can see the World Series on television, and arranging a rollicking midnight party with liquor and women.
McMurphy's brash insubordination has its consequences; Ratched ultimately triumphs by subjecting McMurphy to a frontal lobotomy.
The motion picture version of the story was the first to win all five major Academy Awards (Best Picture, Best Director, Best Screenplay, Best Actress, and a Best Actor award for Jack Nicholson).
In 2021, Netflix produced a series that told the pre-story to the novel called "Ratched" starring Sarah Paulson of American Horror Story fame.
Our production has a PG-13 rating. The show contains some language and adult themes. It may not be appropriate for children under 13.
The play is being directed by Bill France, who also serves as Southern's Director of Communications. "This is a powerful show," France says. "This play takes you on a rollercoaster ride of emotions."
Advanced tickets are available at https://www.eventbrite.com/e/one-flew-over-the-cuckoos-nest-play-tickets-272803100417?aff=ebdssbdestsearch for $10, Tickets will also be available at the door for $12. The theatre is being deep cleaned before each show.
Here is the cast list for the show.
THE PATIENTS:
Randle P. McMurphy – Dominic Rodighiero
Chief Bromden – Kevin Brian Johnson
Dale Harding – Denny Frost
Billy Bibbit – Josh Runyon
Cheswick – J. Christopher Gray
Scanlon – Jade Soul
Martini – Joshua Faust
Ruckley – Johnathon Spence
Fredricks – Bobby Phillips
THE STAFF:
Nurse Ratched – Brittany Wallace
Aide Warren – Geoffrey Saunders
Aide Williams – Marksie Dunn
Dr. Spivey – Bill Cook
Nurse Flinn- Haylee Webb
Aide Turkle – Dr. Jeffrey Yeager
OTHERS:
Candy Starr – Shana Nelson
Sandra – Kaity Dingess
The show is a great conversation starter on issues surrounding mental illness, and suicide. Counselors will be on hand from Mountain Laurel Integrated Healthcare with an informational table and support materials.
The theater upgrade includes new curtains, sound, lighting, and more. The theater is not only used by the local college but is also available to schools, organizations, and groups. "It's truly a centerpiece for our community," France says. "This will be a much-needed to boost for our entire region."
The shows are sponsored by Missy Birchfield, your State Farm Agent (Thursday night), Chapmanville Primary Care (Friday night), Appalachian Outpost (Saturday night), and Logan Regional Medical Center (Sunday).
The show is also sponsored by The City of Logan, Keefer's Power Sports, Mountain State Harley Davidson, Giovanni's of Logan, Logan Motorcycle Sales, Stereo Video Unlimited, Unique Kitchens & Bath, Robert Noone Adoptions, Mountain Laurel Integrated Healthcare, WVOW Radio, the Logan Banner, Conley Tack Shop, and Dylan Vidovich Photography.