Director Goes 'Cuckoo' for Latest Production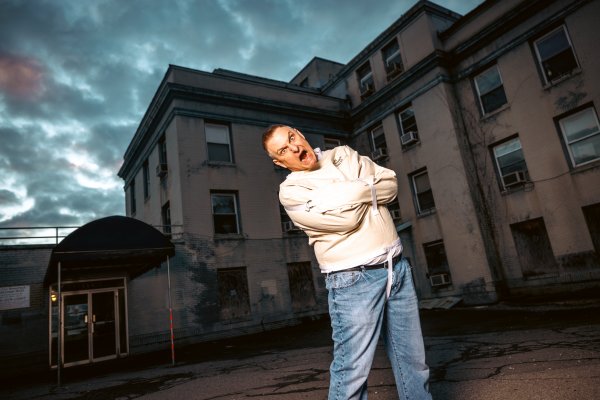 A local director is having his chance to direct the stage version of one of his favorite movies.
Southern WV Community & Technical College will produce "One Flew Over the Cuckoo's Nest" later this month, and Director of Communications, Bill France has agreed to direct the production.
France is a graduate of Marshall University, where he studied journalism and theater, then later received his master's degree in Communications from West Virginia University.
France has a long history of being involved in theatrical productions. "I have done everything from building sets, painting backdrops, making props, doing special effects makeup, running sound, designing lighting, planning choreography, mixing fake blood, staging fight scenes, to acting and directing," France said. "If it's part of a show, I've probably done it at some point."
He first directed a production of "Dracula" for Southern college two decades ago. He has since worked with several theater groups.
He served on the Board of Directors for The Aracoma Story Inc, taught Theater at Logan High School, co-wrote a play, directed and acted in multiple productions.
France has been away from Theatre for more than two years. He said returning just made sense for this show. "I'm all in for anything that benefits Southern," he said. "We have one of the nicest theaters in Southern West Virginia. It just needs some upgrades. This is a project that will benefit the entire community once it's finished."
The local college is working to upgrade its Savas Kostas Performing Arts Center with new sound equipment, new lighting, projections, and curtains. The show will serve as a fundraiser toward those efforts.
The theater has housed plays, concerts, assemblies, dance recitals, award ceremonies, graduations, and performances of all kinds. "Our stage is not just for us," France says. "It's for our entire region."
"We are hoping that all local groups and businesses support this project because it will ultimately benefit everyone," France says.
His directing credits include "Deadly Divide-The Hatfield & McCoy Story,"   "Disney's Beauty and the Beast," "A Christmas Story," "The Aracoma Story-Spirits and Legends" (three productions), "Dracula" for both Southern and TAS, "How to Succeed in High School Without Really Trying," "The Addams Family," "Hairspray" for Logan High School and TAS, "Grease" for Logan High School and TAS, "Shrek the Musical," "Disney's Frozen Jr," and "Little Shop of Horrors" for Logan High School and TAS.
His acting credits include Gaston in "Disney's Beauty and the Beast," Shrek in "Shrek the Musical," Uncle Fester in "The Addams Family," Lil' Abner in two productions of "Lil' Abner," Boling Baker in three productions of The Aracoma Story, Frank Butler in "Calamity Jane," Wild Bill Hickock in "Annie Get Your Gun," Perchik in "Fiddler on the Roof," the Herald in "Cinderella," Pharoah in "Joseph and the Amazing Technicolor Dreamcoat," Danny in "Baby," the Scarecrow" in "The Wizard of Oz," the Dentist in "Little Shop of Horrors" in two different productions, Harry the Horse in Guys and Dolls, Kenickie in "Grease," the Oompa Loompa King in "Charlie and the Chocolate Factory," adult Ralph in "A Christmas Story, Dracula (in creature form) for a production of "Dracula," and Sam Carmichael in "Mama Mia."
"One Flew Over the Cuckoo's Nest" will be presented Thursday, March 24th, Friday, March 25th, and Saturday, March 26th at 7 pm, with a matinee performance on Sunday, March 27th at 3 pm. The play will be held on the Logan campus of Southern WV Community & Technical College in the Savas Kostas Performing Arts Center.
Advanced tickets are available at https://www.eventbrite.com/e/one-flew-over-the-cuckoos-nest-play-tickets-272803100417?aff=ebdssbdestsearch. Tickets will also be sold at the door before each performance. Tickets are $10 in advance (online) and $12 at the door. The theatre will be deep cleaned before each show and socially distanced seating will be available.
The shows are sponsored by Missy Birchfield, your State Farm Agent (Thursday night), Chapmanville Primary Care (Friday night), Appalachian Outpost (Saturday night), and Logan Regional Medical Center (Sunday).
The show is also sponsored by The City of Logan, Keefer's Power Sports, Mountain State Harley Davidson, Giovanni's of Logan, Logan Motorcycle Sales, Stereo Video Unlimited, and Dylan Vidovich Photography.