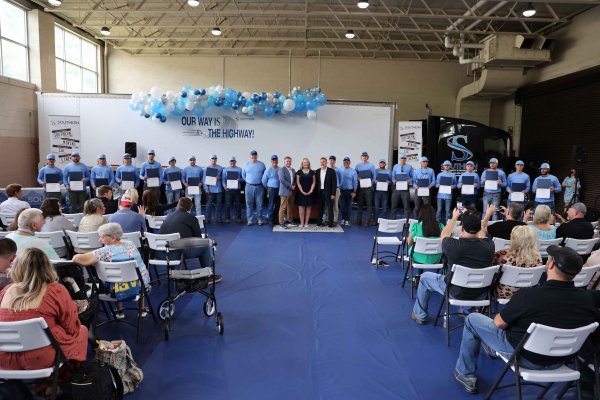 Southern to Host Graduation Ceremony for Latest Lineman/CDL Class
Williamson, WV – Southern WV Community & Technical College is hosting a graduation celebration for its fourth Lineman/CDL class.
The Academy for Mine Training and Energy Technologies honors the 18 students at an 11:30 AM ceremony on Saturday, November 4th, at the Southern Academy for Mine Training and Energy Technologies on the Williamson Campus (the former Armory Building).
"We are so proud of these students and what they have accomplished at Southern," said Jay Lester, Workforce Director at Southern.
After the certificate ceremony, students will display their skills in a hurtman rescue drill, an egg climb, and other line construction events.
"We couldn't ask for better people to join this ever-changing field of work," said Shelby Porter, Operations Manager at Southern. "We are blessed to have this program at Southern. It has been an honor to work with these students and watch them grow during this training process."
This cohort of students will leave Southern with a Class-A Commercial Driver's License, a forklift certification, a lineman apprenticeship first-step certification, and much more.
"I am thoroughly impressed with the students and faculty members of this hands-on program," added Dr. David Lemmon, Dean of Workforce Development at Southern. "We have had overwhelming support from the College and community regarding the Lineman and CDL programs. I am proud of these students and wish them the best in their future careers."
Graduates:
Kenny Lee Allen – Chattaroy, WV
Tanner James Ambrisco – Dunbar, PA
Jacob Arthur Steven Cline – Delbarton, WV
Billy Ryan Conley – Majestic, KY
Tucker David Dalton – Chapmanville, WV
John Parker Davis – Kermit, WV
Ethan Matthew Evans – Logan, WV
Chandler Dale Fluty – Belfry, KY
Kent Norman Grayson, Jr. – Dingess, WV
Robert Fletcher Merritt, Jr. – Man, WV
Brennon Keith Pack – Lenore, WV
Jackson Korbin Pack – Matewan, WV
Brayden Erik Rash – Williamson, WV
Brenden Derek Rash – Williamson, WV
Garret Nathaniel Runyon – Delbarton, WV
Matthew Aaron Sells – Logan, WV
Gabriel L. Silva – Chapmanville, WV
Peyton Chase Woolum – Williamson, WV