Nursing Grand Opening & Ribbon Cutting Ceremony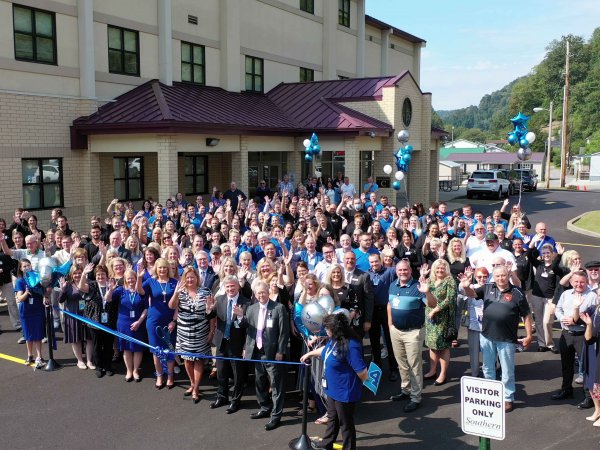 Southern WV Community & Technical College held its Grand Opening and Ribbon Cutting Ceremony for its newly upgraded and expanded Nursing Department and Program today (Monday, Sept. 19th).
Hundreds of local leaders, hospital officials, school representatives, business leaders, civic clubs, moms, dads, grandparents, and students converged on the Logan campus to tour the new facilities. Visitors were taken on tours of the building featuring instructors and students in real-time lessons.
Southern completed the application process for its new 16-month Accelerated Weekend option of its Nursing Program. It was the result of a $1 million award from West Virginia Governor Jim Justice's Nursing Workforce Expansion Program.
The award was part of $48 million to support new and expanded initiatives. They were administered by the West Virginia Higher Education Policy Commission and the Community and Technical College System.
The investment is expected to support 20 more new nursing students in the weekend option, 10 more traditional students started classes this fall with more to be added in January 2023.
This program is geared toward applicants that are experienced learners and have a minimum of an associate degree and current licenses from Allied Health programs such as Medical Assisting, Medical Laboratory Technology, Paramedic Science, Radiologic Technology, Respiratory Care Technology, Surgical Technologist, or LPN license. Applications were also accepted from those with an unrelated bachelor's or master's degree.
The Grand Opening is the culmination of much hard work during the summer months to upgrade facilities and equipment. It will not only benefit the new program but our existing and future nursing students as well.
Southern President Dr. Pamela L. Alderman said this will benefit our area in more ways than one. "This will provide a great opportunity for our students, but it will also fill a gap in the nursing shortage in our region. We are grateful to Governor Justice for making this possible for our college, our students, and our region."