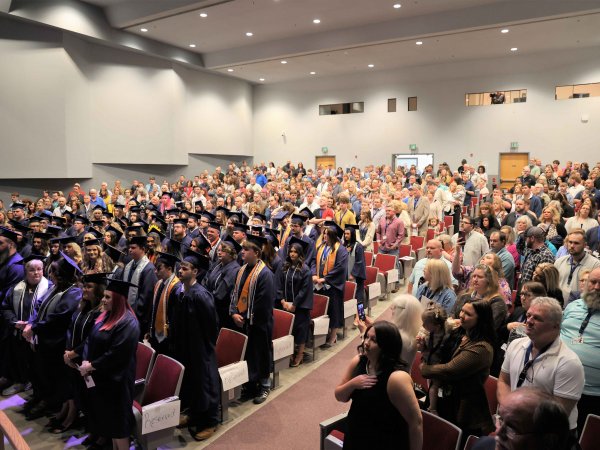 Southern Holds Two Commencement Ceremonies
Southern held its Spring 2023 Commencement Ceremonies on Saturday, May 6th, at 10 am and 2 pm.
This was the second spring commencement to take place in the Savas-Kostas Performing Arts Center on the Logan Campus. The graduates in the Arts and Sciences, as well as Professional and Technical programs, graduated on Saturday morning at 10 am. The graduates in the Allied Health programs graduated at the 2 pm ceremony. Due to the overwhelming response from graduates and guests, the Commencement Ceremony for Southern Nursing graduates took place the same evening as the Nurses Pinning, Friday, May 5th, at 6 pm.
The guest speakers for the ceremonies on Saturday were Justice Haley Bunn (10 am) and Mr. Paul Hardesty (2 pm). Both guest speakers have roots in Southern West Virginia and are great examples of public servants. "We are excited to include them in the celebrations of our graduates," President Dr. Pamela L. Alderman said.
"This year has been a tremendous year for graduate attendance," Alderman stated. The Registrar's Office received just under 300 graduation applications, with 250 graduates accepting the invitation to attend their respective ceremonies. These graduates brought almost 800 guests to the Logan Campus over the weekend.