Southern WV Community & Technical College Hosts First Gala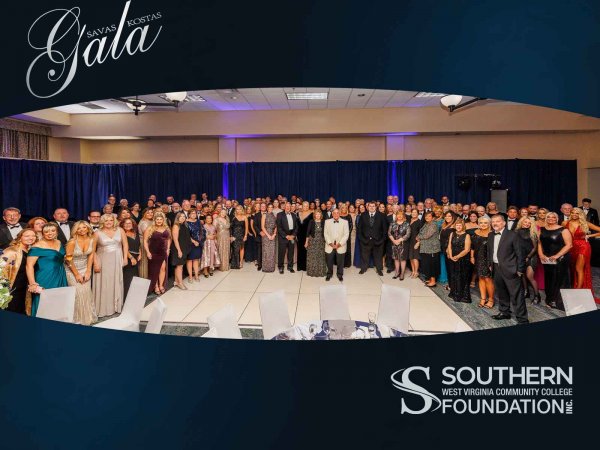 (Mount Gay, WV) "It was a night to remember"
The Southern WV Community & Technical College Gala was an event complete with a red-carpet arrival, fine dining, award presentations, and entertainment. The Gala was so elegant, that it could've been compared to one in Hollywood.
The Gala, held on Saturday, September 24th, 2022, at the Chief Logan Conference Center, was sponsored by the Southern WV Community College Foundation as a fundraiser for the Savas/Kostas Performing Arts Center. Over 300 guests attended in support of the legacy.
The Savas/Kostas family provided funds to establish the Performing Arts Center located on Southern's Logan Campus. The theatre serves the needs of the local college but also benefits the community at large.
Southern's President, Dr. Pamela L. Alderman states, "This is the largest event Southern has ever held. Due to the overwhelming response from our Southern family and community, we plan to make this an annual event. The support from our contributors exceeded all expectations. We are forever grateful to continue the legacy of giving back to our community."
Assistant Director of Development, Robert "Stacy" Dingess states, "Everyone stepped up to help us with this project. This fundraiser will go a long way in preserving the legacy that began 40 years ago."
Awards were presented to the following:
PREMIER ACADEMY AWARD
Logan County Charitable and Educational Foundation
Where Passion Meets Education and Community
KOSTAS ACADEMY AWARD
City of Logan
Aracoma Drug Company
KOSTAS GOLDEN GLOBE AWARD
Logan Regional Medical Center
Thornhill Auto Group
KOSTAS EMMY AWARD
Chapmanville Primary Care
Dr. David Lemmon
Pikeville Medical Center
United Bank
KOSTAS PEOPLE CHOICE AWARD
Alderman Family
Boone Memorial Health
Charleston Area Medical Center
Chapman Printing/Marshall Reynolds
Episcopal Church, Holy Trinity of Logan, and St Paul's of Williamson
Bill France Family
Gourmet Granny
Holden Machine/James & Angie Rice
Dr. Harold Howell and The Southern Pineapple
Kapourales Properties
Logan Bank & Trust
McDonald Land Company/ Glenn Yost
Alice Rider
Senator, Dr. Ron D. Stollings
A silent auction was held in conjunction with the event. Pledges and donations are ongoing. All funds raised will be used to renovate the Savas/Kostas Performing Arts Center.
If you would like to contribute to the ongoing legacy, please contact Robert "Stacy" Dingess, Assistant Director of Development Administration, at (304) 896-7422 or robert.dingess@southernwv.edu.