Southern WV Community & Technical College Welcomes NASA Representatives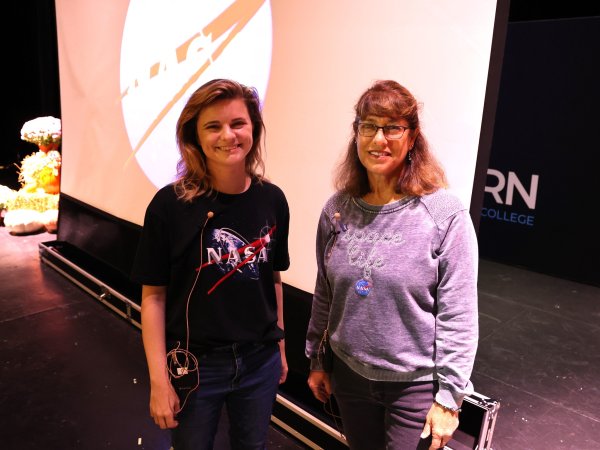 LOGAN, WV – In a recent enlightening event held at Southern West Virginia Community & Technical College, NASA personnel offered local students and the public a captivating glimpse into space exploration.
On September 26th, a distinguished panel convened, featuring two esteemed members of NASA (the National Aeronautics and Space Administration). These NASA professionals shared their journeys and pivotal roles within the renowned agency.
The event also gave students the unique opportunity to pose questions to the esteemed panel. Inquisitive minds sought answers on topics ranging from enigmatic black holes and the prospect of alien life to the intricacies of NASA employee compensation, among other intriguing subjects.
One of the presenters, Katie Kosak, a Mission Analysis Engineer specializing in EMC/EMI/IR, originally came from Appalachia and began her academic journey at a community college. She fondly recounted her childhood fascination with rockets, sparked by the discovery of one that belonged to her older brother. Katie shared stories of her early rocket-launching endeavors, acknowledging that not all had successful outcomes. Nevertheless, these setbacks only deepened her resolve to pursue a path of study that eventually led to her earning a Ph.D. in Astrophysics from the University of Warwick, where she would unravel the mysteries of rocketry.
Bonnie Stone, an Industrial Engineer at NASA, adds to the list of distinguished guests. Notably, Bonnie holds a Master of Science degree in Industrial Optimization from Embry Riddle Aeronautical University. During her presentation, she delved into NASA's expansive operations throughout the United States and the wide range of career opportunities available. Bonnie also directed the students to explore NASA's website to discover potential career paths aligning with their interests and aspirations.
The event unfolded in two sessions, with the morning session taking place from 10:00 a.m. to 11:00 a.m. and catering to local middle and high school students who joined their college counterparts in the Savas Kostas Performing Arts Center for the enlightening presentation. The afternoon session was open to community members from 2:00 p.m. to 3:00 p.m..
The turnout for the morning session was so substantial that college officials had to accommodate some students in overflow rooms to participate via Zoom.
President Dr. Pamela Alderman lauded the NASA event as an inspiring moment of educational collaboration. She said, "At Southern West Virginia Community & Technical College, we believe in fostering a spirit of curiosity and exploration in our students. Partnering with NASA has allowed us to ignite the flames of ambition and possibility, encouraging our students to reach for the stars figuratively and literally".
Robert Stacy Dingess, Chief External Affairs Officer, expressed gratitude for NASA's collaboration in their recruitment efforts, noting that NASA and its affiliates offer paid internships in STEM (Science, Technology, Engineering, and Math) fields and NON-STEM programs. Dingess observed the excitement among local students as they actively engaged with the panel and posed their questions.
Additionally, the Department of Energy provides an internship program for community college students known as SULI (Science Undergraduate Laboratory Internships), which falls under the Office of Workforce and Development.
Dingess expressed the college's desire to nurture and expand its relationship with NASA, suggesting the possibility of arranging educational visits for interested students to NASA facilities as part of their educational experience. He stressed the significance of fostering adventurous confidence in students, urging them to be guided by NASA's motto to venture into the unknown.
President Dr. Pamela Alderman shared her vision for the future: "Our collaboration with NASA is just the beginning. We are committed to providing our students with opportunities that expand their horizons and inspire them to pursue their dreams. Together with NASA, we aim to nurture the next generation of explorers and innovators who will continue pushing the boundaries of human knowledge".