Southern Announces Cast for 'Cuckoo's Nest'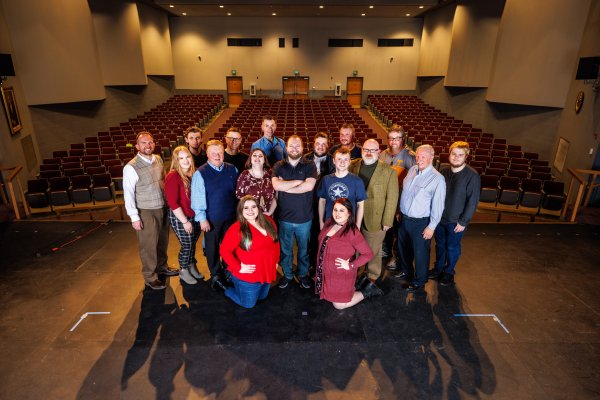 Southern WV Community & Technical College is proud to announce the cast for its upcoming production of "One Flew Over the Cuckoo's Nest."
The cast features Southern employees, Southern students, and actors from three different local theater organizations. The play will be directed by Southern's Director of Communications Bill France.
The show also marks a return to college-sponsored theatrical productions after a 15-year break. The last show that Southern produced was "Steel Magnolias" in the spring of 2007.
"One Flew Over the Cuckoo's Nest" is based on the novel by Ken Kesey. The setting of this dramatic comedy is an Oregon mental institution in the 1950s.
Randle McMurphy, played by Dominic Rodigheiro,  is a charming rogue who contrives to serve a short sentence in a mental institution rather than in a prison. He makes his entrance into the psychiatric hospital and tension ensues.
Nurse Ratched, played by Brittany Wallace, is a former military nurse who dominates the patients maliciously with her authoritarian rule using emasculating tactics to strip the men of their freedom.
McMurphy sees that Nurse Ratched's control over the men is not helping them get better but keeping them in a low emotional state.
This is a time when shock treatment and lobotomies were acceptable forms of "curing patients".
The play will be presented Thursday, March 24th, Friday, March 25th, Saturday, March 26th at 7 pm, and Sunday, March 27th at 3 pm.
The performances are part of a fundraising effort to upgrade its Savas Kostas Performing Arts Center in the Logan campus, which will be the location of the shows.
The movie version of the novel, which featured Jack Nicholson, swept the Academy Awards in 1976, winning Best Picture, Best Director, Best Screenplay, Best Actor, and Best Actress.
This marks the first time the play will be presented in the local area.
THE PATIENTS:
Randle P. McMurphy – Dominic Rodighiero
Chief Bromden – Kevin Brian Johnson
Dale Harding – Denny Frost
Billy Bibbit – Josh Runyon
Cheswick – J. Christopher Gray
Scanlon – Jade Soul
Martini – Joshua Faust
Ruckley – Johnathon Spence
Fredricks – Bobby Phillips
THE STAFF:
Nurse Ratched – Brittany Wallace